Interprint Inc. - Printing the Future
Global Design, Inspiring North America
Interprint, founded in Germany in 1960, has production in Brazil, China, Malaysia, Poland, Russia and the U.S. The company employs nearly 1,300 people and products 1.7 billion square meters (over 18 billion square feet) of printed décor for furniture, flooring and interiors every year.
Interprint is one of the leading décor printers in the world, but that's only part of what they do. The company's designers scour the world tracking trends, finding inspiration, and interpreting found materials and imagining fantasy visuals for commercial and residential markets on every continent.
Co-everything: Feeling the pulse of the times, taking new views and understanding customer wishes as a team and in co-operation with creative partners. The current Co-Working Trend has inspired us to co-operate with renowned designers from the European furniture industry: Jochen Flacke, Thorsten Keissner and Peter Kern from Germany, Atilla Kuzu from Turkey and Luca Tormena from Italy.
In May 2017, we presented the jointly developed décors for the first time to the general public at Design Post Cologne. The Co-Creation Talk offered opportunities for discussing the changing role of designers. In a talk with Salvatore Figliuzzi and Maurizio Burrato, the design experts gave insights into the current Interior Design Trends and talked about their experience from the Co-Creation Process with Interprint.
Click here to see a video of a panel discussion held in May of 2017.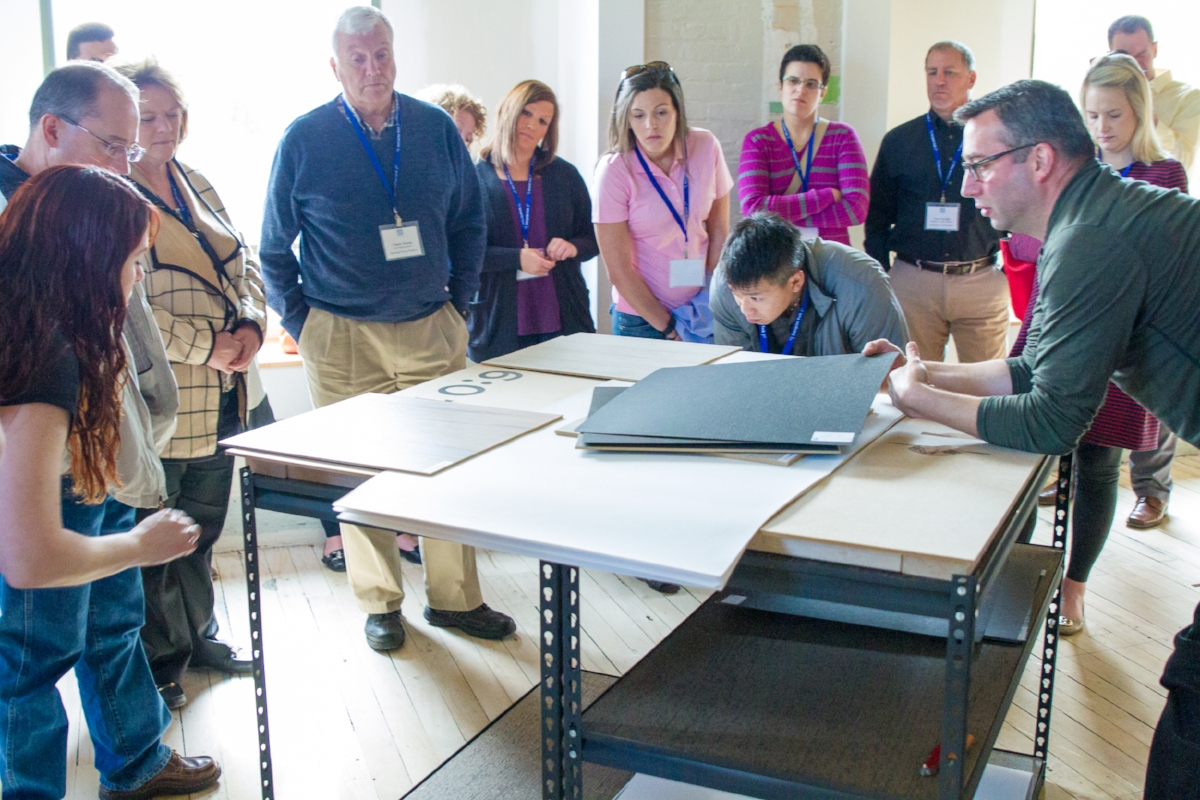 North American Design Director Peter Garlington gets feedback on new trend concepts with furniture industry luminaries during the company's Furniture Days event in 2016.
Design begins with a raw material or an original art concept. In this case, planks of wood flooring are being captured by a high-definition Metis flatbed scanner, utilizing several lighting angles to highlight every minute detail on the material's surface
Designs are then digitally printed and compared with the original. In most cases the original design is manipulated to bring out the best characterists of the source material.
Once the client has approved the design concept, rotogravure cylinder are laser engraved for each stage of the décor print. A woodgrain design may have three, four or five print stages.
Every printing stage must be synchronized to keep the finished print in register.
Quality control and inspection stations throughout the process ensure the color and fidelity are consistent from the beginning to the end of a production run, and from order to order, year in and year out.
Finished rolls of printed décor awaiting shipment to laminate producers across North America.
New Designs from Interprint
The walnut interpretation of a fruitwood. Soft core and sapwood elements give the decor its elegant look. Timeless and universal: harmonizes with styles ranging from modern Nordic to traditional Italian.
A material mix with the look of concrete and stone. The geometry of the grid reveals floral details up close. A flexible design in both function and style: can be cut any way and used anywhere. At home in urban spaces.
An old larch from the Alpine region. Smoked, coarse, cracked and planked. The white oil treatment creates a unique colour effect. Natural and handcrafted influences give it recognition.